The perfect module to post forecast journal entries but not yet effective and to have a broader overview of your business.
Mago4 – Forecast Accounting
Would you like to have an estimate of the future trend of company's balance? With Mago4 you can easily do it. Forecast Accounting was specially designed to give you considerable support in everything related to the budgeting of accounting entries, with tools designed to obtain a simulated balance closer to the real company trend. The Forecast Accounting module ensures you an even broader perspective over the dynamics that affect the future of your company.
FORECAST ACCOUNTING ENTRIES
With this module you record entries referring to future transactions that are not yet "recordable", such as monthly accruals and deferrals falling under adjustment operations that are usually recorded only at the year end. Forecast entries can also be used to post documents to be issued and to be received, in order to create the payment schedule in advance or only to get a simulation of the VAT settlement. When these entries take effect, Mago4 automatically updates all the files, avoiding you to repeat the posting of all data in the actual accounting.
ACCOUNTING SIMULATIONS
Having an anticipation of what your accounting balances will look like is quick and easy. You can print out financial statements and accounting sheets by choosing to enter only the forecast movements or add them to all the other movements. As we have seen, you can also insert documents to be issued and received and then print VAT simulations, or even obtain accounting simulations starting from the insertion of groups of registrations.
FORECAST ANALYTICAL ENTRIES
The module is fully integrated with your Analysis and Controlling module. This means you can also get simulations in analytical balances too, constantly updating cost centers, jobs and product lines.
FORECAST DEPRECIATION ENTRIES
Forecast Accounting works in perfect synergy with the Fixed Assets module, so you can also post in company's forecast accounting the depreciation quotas due at a certain date in the financial year. These quotas often have a great influence in the profit or loss calculation: that's why, Mago4 allows you to post them in forecast accounting, in order to have at any time a better control over the actual performance of the company's real balance trend.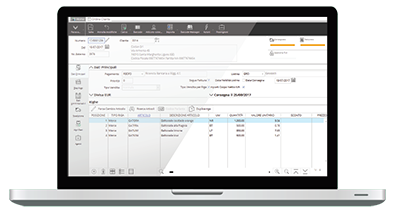 Mago4 is available in 3 Editions
to meet the real needs of all SMEs.
The Forecast Acounting module is provided for all editions.